How to choose the best safari in Dubai ? Everyone is looking for cheap desert safari deals so here are some points and a checklist for everyone who wants the best entertainment for lowest cost with an awesome desert safari in Dubai:
1) Type of camp and Group Size
Most international visitors are not aware that there are so many types of camps and why asking this question is important.
– Shared camp with other companies. These camps are generally more focused on the budget market and can represent good value for money for those travelling on a shoestring budget. One drawback is that the company you book with probably has no control over the hygiene, food quality, entertainment or facilities as many companies will come to the same camp for dinner. If you have a problem, there is generally nothing your company can do.
– Large private camps (50 to 600 guests). Some Safari companies have their own camps but cater to large numbers of guests, sometimes as large as 500-600 guests per night. If you feel more comfortable with lots of people around, this may be a good option. One of the major drawbacks is a very busy desert, long buffet lines and a lack of personalised service.
– Small private camps (less than 100 guests). There are not too many of these to choose from but these camps have a higher level of service, more customisation and a more intimate feel. These are best for couples, well-traveled guests, families and those celebrating special occasions.
– Private set-up. This is the ultimate safari experience. Here you will experience a staff to guest ratio of 3 or 4 to 1. This means that your every need will be attended to, your experience is completely bespoke and privacy and quality are assured. However, beware of set-ups put together without bathroom facilities. Nothing can put the brakes on a romantic dinner like having to "go in the dunes".
2) Company staff or Freelance staff
A good Safari Guide is the #1 factor which will make your break your experience. Ask your safari company if they can 100% guarantee if your safari will be conducted by one of their staff. Some companies have no staff and rely on freelance safari guides. Whilst some freelancers are excellent, others are less desirable. Either way, a company relying on freelancers has no control over which one you will receive. Other companies have some of their own staff and outsource with Freelance guides when they become busy. If this happens, they will also not be able to ensure the quality of your safari guide. The best service will come from a company that can guarantee that you will have a company trained safari guide. These guides will have First Aid training, product knowledge, safety training and customer service training.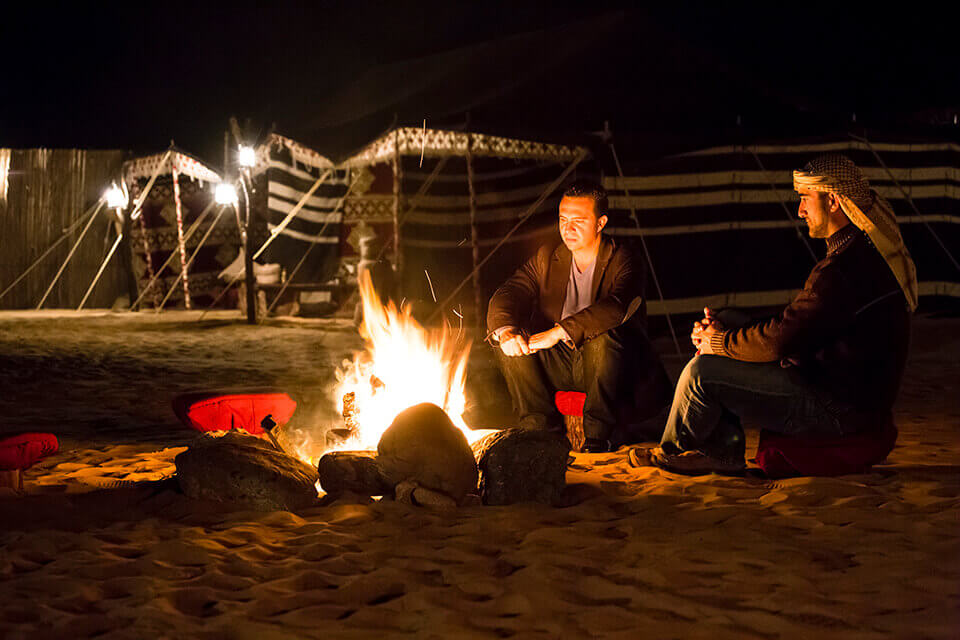 3) Type of drive – dune bashing or wildlife safari
Do you love adventure sports? Are you fit and healthy? No history of back or neck problems? Don't get motion sickness? Love roller-coasters? Are not travelling with children or older guests? Do you like motorsport? If you answered YES to all of those questions then you would probably prefer dune bashing. These high impact adrenaline drives are not for the faint hearted and can be incredibly fun. However, the adventure generally doesn't last for long and may only last 10-30 minutes.
However, if you answered NO to any of these questions, then you would probably prefer a wildlife drive. These are more like African safaris and can be enjoyed by everyone. There are only two companies permitted to conduct wildlife safaris inside the Dubai Desert Conservation Reserve (Yes, Platinum Heritage is one of them) and will provide the most interesting, safest and most visually appealing adventure. These drives are longer in nature and generally last over an hour.
4) What's for Dinner?
Everyone understands why a meal at a fast food restaurant is cheaper than a fine dining restaurant. You should ask what is on the menu of your safari. Is the food prepared fresh or pre-cooked? Is there a Chef on-site or is the food from a catering company? Is the cuisine authentic to this region or should you expect a BBQ or curry? You wouldn't randomly select a restaurant and the same care and attention should be taken with your safari and obviously the better the food and higher the quality, the higher the price of your safari.
5) Reputation
I would like to put this first as I think this is the most important element to choosing a safari which is right for you. A referral from a friend with similar tastes is always the most valuable. Also look at TripAdvisor for honest traveler reviews and feel free to write messages to people who have made reviews and ask them questions. Ask your Hotel Concierge for some advice but also ask if his hotel has a contracted supplier as he may not be permitted to give you an impartial recommendation.
Best is to check the reviews the the Dubai desert safari provider we recommend has plenty:
Dubai desert safari
+971-52-8272700
+971-50-8322835
desertsafarirides@gmail.com